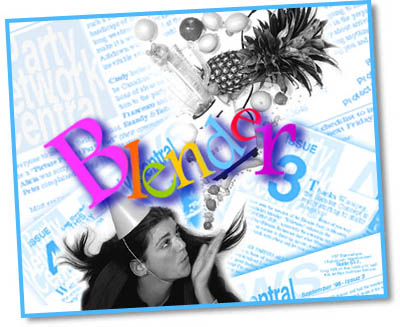 Welcome to Party Network Central™
You're Invited to join us at Blender Events™ in progress!

you can click through if you have a
attention span..

However...if you are seriously interested in meeting other human beings, you are invited to relax and take the time to understand and get yourself ready for the Party Network Central Experience.
Hi, my name is J.P. Mac, and my personal belief is that there are very few"electronic" ways to really get to know people...
In the end, the success or failure of matchmaking always boils down to THE FIRST IMPRESSION when you ACTUALLY PHYSICALLY MEET.
"One on one" rendez-vous are often too much pressure (and a little scary) for regular people, so people like you and me need an environment of FUN and FLEXIBILITY with lots of escape routes.
That's what Party Network Central™ is all about... after you have met someone, or a number of people through our associated matchmaking sites (there is a small fee for most of the good ones) we show you how to host your own Blender Party ™ or Blender Brunch ™ just like the ones you see in our albums, and help you ENCOURAGE your new friends to become "Blender Attenders"`!
We offer this information FREE to anyone who has joined a matchmaking service through Party Nework Central.
Why do we give it away FREE? - Because my personal VISION is a world of people turning off their computers, getting together and chatting with each other in person, face-to-face. I want people to LEARN that there is no such thing as a "perfect match", but that by BLENDING ideas, opinions, attitudes, backgrounds, races and nationalities we can learn to love each other for our DIFFERENCES.
I believe everyone has VALUE, and that by taking RISKS, (like organizing a Blender Event ™) we GROW PERSONALLY and have a chance to EXPERIENCE & SHARE A REALLY INTERESTING LIFE!
---- For those of you who feel trapped in Virtual Reality with nowhere to go - DON'T BE AFRAID! I have written it all down for you in easy to follow steps in the complete "How-to" guides for Blender Events™ The guide book is an on-demand publication which you can buy on-line, with the ACTUAL HARD COPY BOOK sent to you anywhere in the world by mail. The guidebook will teach you the FUN SECRETS of how to MEET NICE PEOPLE, and at the same time become a RESPECTED MATCHMAKER in your local community. (...and who do you think usually gets the "pick of the crop"?)
I think matchmaking services on the web are great for establishing communication, but the real test of any matchmaking system is people actually meeting other people off-line... I hope for your sake it's at a REAL Blender Party™ or Blender Brunch™ in your community! Join us NOW at a Blender Party or Blender Brunch Event... See you there!
J.P.Mac ( theBl e n d e r Events Partymeister)

P.S. Please bookmark your visit to Party Newtork Central and don't forget to send invitiations through the services below!
---