-
Join us on the Expedition to the Heart of Mundo Maya
(Camel Trophy Central America)
How are people chosen for expeditions?
Camel Trophy Japan selections tells all!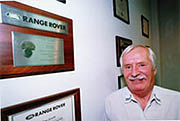 Looking for world wide recognition for your Land Rover Club or Organization?
Send 2 pins or other memorabilia from your organization and we'll display one on this web page (with a 50 word description of your club / organization) and send your club invitations to the
Explorasport
Experience Centre - The newest in 4X4 Trial, Testing and Traing Centres.
AT
The Gulf 4X4 and Offroad Exhibition
November 5-8 1998
Dubai International Marine Club
United Arab Emirates (U.A.E.)
Preview the Explorasport 4X4 Experience Centre Concept
and the New ATX expedition programme.
---
Send Pins or Memorabilia to: Rovers Rule!
933 Station "H"
Montreal, Quebec, Canada
H3G 2M9


Find out more about Explorasport