Broadcast Videos Featuring Philip McMASTER -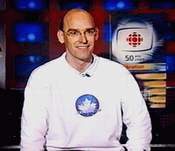 On the occasion of the Canadian Broadcasting Corporations' 50th Anniversary, Philip McMaster founder of the non-profit volunteer organization "Cool to be Canadian" recounts some CBC history. September 2002
<< Click on image for 30 second collage.
---
Broadcast in the Carribean Islands in the year 2000, Philip McMaster, President of Explorasport, discusses the history and philosophy of the company he founded in 1980.

View
TV2

Check out
TV3

See
TV4

See
TV5

See
TV6

Are you environmentally-minded? the EcoTaskForce is looking for you!